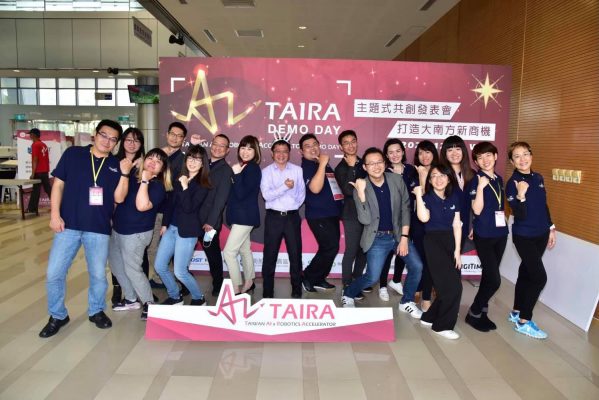 The Taiwan AI x Robotics Accelerator (TAIRA) is an accelerator program hosted by the Southern Taiwan Science Park (STSP) and StarFab Accelerator designed to fast track startups working on AI solutions. Selected teams gain access to corporate resources and business partnership opportunities.
The Southern Taiwan Science Park (STSP) is the largest science park in southern part of Taiwan in terms of production value. The science park has a complete semiconductor and ICT hub; hence, TAIRA puts its focus on furthering Taiwan's competitive industries: manufacturing, medical, agricultural… and other related fields. TIARA attracts global AI startups to partner with Southern Taiwan enterprises – achieving "innovation through field domains and transforming industries through startups."
Through collaboration with enterprises, the program aims to accelerate startups by combining current domain expertise with new and innovative technologies at the STSP. We have invited startups with AI technology from all over the world to join us. At the same time, we provide the office space, support network of grants, product development resources, business model consulting, and other counselling in the hopes of startups innovating with Southern Taiwan enterprises. We particularly look forward to seeing corporate-startup partnerships entering the global market.
Startups will work with enterprises in Southern Taiwan on challenges and opportunities they face; in which, could potentially lead to joint research and development of products, solution testing on testbeds, and sales through enterprise channels
Mentors with deep industry and entrepreneurship experience will invest their resources and connections to assist startups in building development strategy and to fuel the success of their business.
There will be opportunities for startups to meet with angel investors throughout the consulting period. Before the end of the program, startups will present their product or service on Demo Day for marketing and business expansion.
International connections:
We have partners in North America, Japan, and Southeast Asia who are able to connect you with overseas market channels and resources.
There will be formal and informal gatherings between entrepreneurs and members of the startup ecosystem to share experience and opportunities. This also provides the opportunity to facilitate cross-domain cooperation.
Benefits of Joining TAIRA 2021
Selected startups will be able to obtain field verification opportunities.
Priority will be given to the participating teams to partner with TAIRA corporate mentors.
Opportunity to exhibit at international tech conferences (CES, MWC)

Opportunity to attend the local exhibition in Taiwan (InnoVEX)
2 years, a maximum extension of 1 year
No fee charged during the program; $1,500 NTD / month per desk after the program
Upon approval, startups can register in the innovation and entrepreneurship center at STSP and be exempted from management fees.
Free WiFi, meeting rooms, central air conditioning, printer, magnetic card access control, kitchenette (microwave, water dispenser, refrigerator)
Startups can apply for STSP dormitory and receive discount 

Assistance in company registration in STSP and Taiwan Entrepreneur Visa
Services provided by the AI_Robot Makerspace
Rapid Prototyping (trail production and outsourcing)

Inspection service 

Equipment rental

Training: AI courses for talent development
Technical & Value-Added Service
Seminars and 1:1 sessions: AWS, Microsoft
Provide consulting in product development
Free for consultations, extra charges may apply for work items agreed upon between startups and consultants.
company registration, tax & stock affairs, financial counseling, company valuation
Investment contracts, general contracts, legal consultations, offshore structures
patent portfolio strategy, patent search
Have at least a demonstrable, validated prototype with clear plans for commercialization
Technology-driven startup with a strong founding team and intellectual property
Have a product or solution verified by the market
The startup must have the ability to send at least one founder or senior member to participate in the entire selection process
Willingness to carry out technological development and business partnerships with enterprises in Southern Taiwan
Enterprise Partners (new partners will be updated once they are confirmed)
Accepting online applications
Primary Selection Results
Announcement for the primary list
Enterprise-startup matchmaking
Announcement for TAIRA 4th Cohort
In-depth collaboration between startups and enterprises
Product launches through a thematic approach. Business opportunities expansion.
* Please note that dates are subject to change at the sole discretion of the organizer.
Participating startups should apply online via the following link and upload pitch decks prior to the deadline:
Apply Here:https://pse.is/3kj8jz
Selection will be based on the information provided by startups in their application. StarFab Accelerator may invite startups for online/ offline interviews to further understand the teams and products, and clarify information provided in the applications.
Startups will have the chance to present their proposals in response to the enterprise challenges, and meet participating enterprises.
Startups selected by participating enterprises will be able to join TAIRA for the co-creation phase.
Selected teams will be participating in this year's TAIRA program and start their collaborations with enterprises.
At the end of the program, startup and enterprises will pitch and demonstrate the results of the program to a select group of investors, industry representatives, and members of the startup ecosystem. Nanke and Southern Taiwan enterprises will be invited to participate and provide the startup team new business opportunities.