【StarFab Issue 6】InfinitiesSoft Uses Strategic Alliance to Enter the Global Market Accelerating AI Adoption Today!
In our previous newsletters, we introduced innovative applications and trends in Smart Manufacturing. In recent years, the performance enhancements and cost saving advantages created by artificial intelligence (AI) have gradually made AI more important and relevant in every industry in Taiwan. In our next few newsletters, we will discuss the new range of outstanding startups and companies in the AI field!
In this week's issue, we share how InfinitiesSoft Solutions Inc., a firm that has just completed its series A funding and was also the runner up on Demo Day for our 2014 CIAT Accelerator Program, positions itself in the global market and keeps its competitive edge in the AI industry with Wenyu Chen, the General Manager of InfinitiesSoft.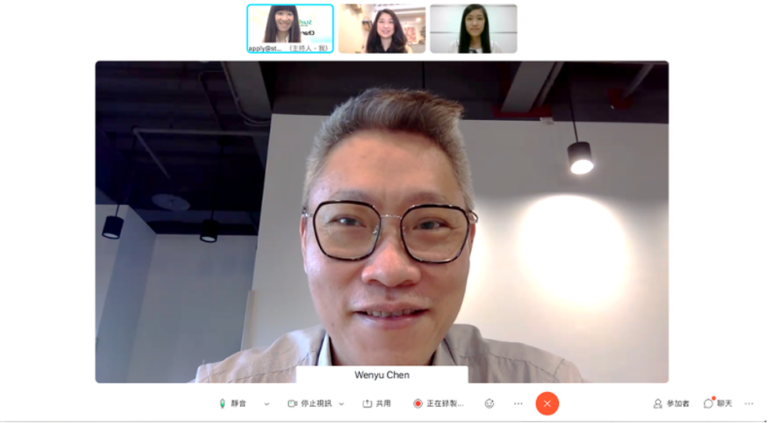 InfinitiesSoft is well-known in the AI industry for its "AI-Stack", a platform-based product that makes it easier for organizations, enterprises, software companies, and system integration companies to develop and deploy AI applications. AI-Stack functions as the backbone of machine learning development and operation, and customers in any AI-relevant industry, be it healthcare, smart city, or other industries, can quickly establish an AI infrastructure and development environment enabled by AI-Stack to accelerate their adoptions of machine learning. Also, InfinitiesSoft has enabled many ecosystem partners to stack more tools or AI applications (such as AI-OCR, high-performance object storage, defect detection, etc.) in AI-Stack, so that InfinitiesSoft's clients can stand on the shoulders of giants to develop their AI.
"Today, the biggest challenge that industries in Taiwan face in implementing artificial intelligence is acquisition of talent," said Wenyu Chen, General Manager of InfinitiesSoft.
Taiwan has unique advantages:
1. Strong software and hardware integration capabilities
Taiwan's leading position in the ICT hardware industry makes AI companies in Taiwan able to minimize communication delays due to time differences, and work closely together to ensure software and hardware compatibility, compared to AI companies located in Europe or the US.
2. Industry advantages
Many of our manufacturing companies rank amongst the top 100 in the world, and our chip and semiconductor business is what Taiwan is known for. All these industries are gradually adopting AI to enhance smart manufacturing.
In addition, Taiwan's National Healthcare Insurance system makes it relatively easy for us to obtain medical data for AI applications.
However, the bottleneck of adopting AI is shortage of talent, if overcame, we could have done better and create more achievements. In Taiwan, it is relatively difficult for SMEs (small-to-medium enterprise) or startups to obtain AI talents since most talents need to be trained for a long time in schools, or to gain relevant working experience. Furthermore, fresh graduates are more likely to seek employment in established industries or multinational companies.
Creating Strategic Alliances
Ever since the boom in the semiconductor and ICT sector, forging international business relationships has become one of Taiwan's key strengths and strategies. Proximity to major Asian markets allows Taiwan to explore new opportunities in software, and not just hardware. For western companies, there remain certain barriers to developing the Asian market. Therefore, if Taiwanese startups can start from Asia and cooperate with companies from neighboring countries to develop local markets, they have a higher chance of successfully creating a competitive advantage.
In view of this, InfinitiesSoft's global strategy is to use certain countries in Asia as a starting point, and to expand to neighboring countries after achieving high market shares in China, Japan, Malaysia and India, such as expanding to Indonesia after establishing a presence in Malaysia, as well as to other culturally similar markets. InfinitiesSoft's strategy is to create alliances or join existing alliances in order to work with local partners in different countries. As for the US and European market, in the absence of capital and resources to enter these markets, InfinitiesSoft's current strategy is to work with US companies, and to seek appropriate opportunities to break into related markets in the future.
What to consider when forming strategic partnerships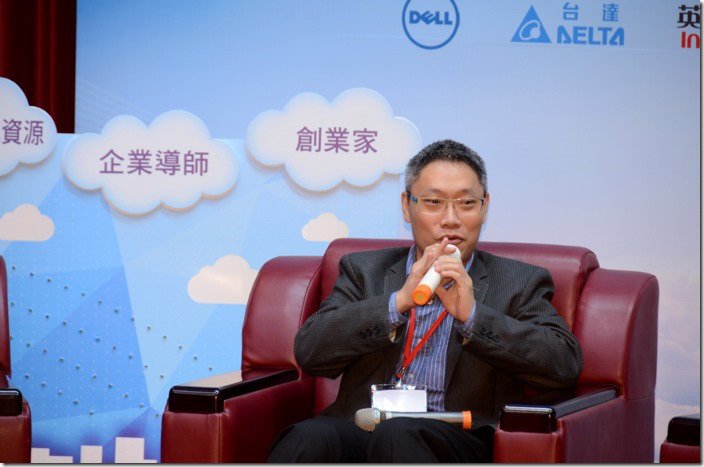 How to engage with large enterprises in order to create new business opportunities has always been a major challenge for B2B (business-to-business) startups. In recent years, InfinitiesSoft has successively collaborated with large companies at home and abroad, such as Nvidia and Dell EMC, and expanded into bigger markets. When forming strategic partnerships, General Manager Chen points out that the critical question to ask is, "Why should large companies collaborate with us?"
Establishing trust is a top priority, since we live in a very connected world, and large companies can easily learn about the status of a company through its partners in the same industry. Next, we need to examine the benefits of cooperation from three different aspects: "what other partners want", "what we can provide", and "what we want to gain", to figure out if we can discover the customer's problem, and create a connection to our products. It definitely takes time and effort to gain a client's trust, discover common ground, and to clinch the deal. Last but not least, startups need to highlight their competitive advantage.
The sales cycle of large companies is usually very long, which means it is important to think carefully about how to approach them. For example, many companies will not allocate large budgets to new projects, since the return may not be as expected. To cooperate (or not), we need to confirm a few things: firstly, what is the target? Are we aiming to profit right away, or are we laying the foundation for future collaboration? Secondly, is it an exclusive contract? Will this partnership make it difficult to expand your business in the future? Making the target clear will not only make it easier to succeed, but also save a great deal of time.
Adjusting business models to keep up with the market
InfinitiesSoft has also experienced a pivot in its business model, and General Manager Chen believes that the business model needs to be constantly adjusted according to market demand, while monitoring relative costs at the same time.
"It takes more than 10 years for most B2B companies to succeed, and making a product that satisfies customers is an important goal in the process." In general, the B2B business model is not very complicated or diverse, hence building customer loyalty and reacting speedily to market demands is very important. "While everyone knows that we must explore distribution channels, some people succeed, while some people fail. The key is whether we are flexible enough to keep up with change, and respond fast enough. Our aim is to stick to our core values. We believe that working with the right distribution partners to serve our clients, and building a relationship based on trust with our partners is crucial to success."
Finding values beyond money when raising funds
Recently, InfinitiesSoft completed a Series A funding, led by Zero One Tech.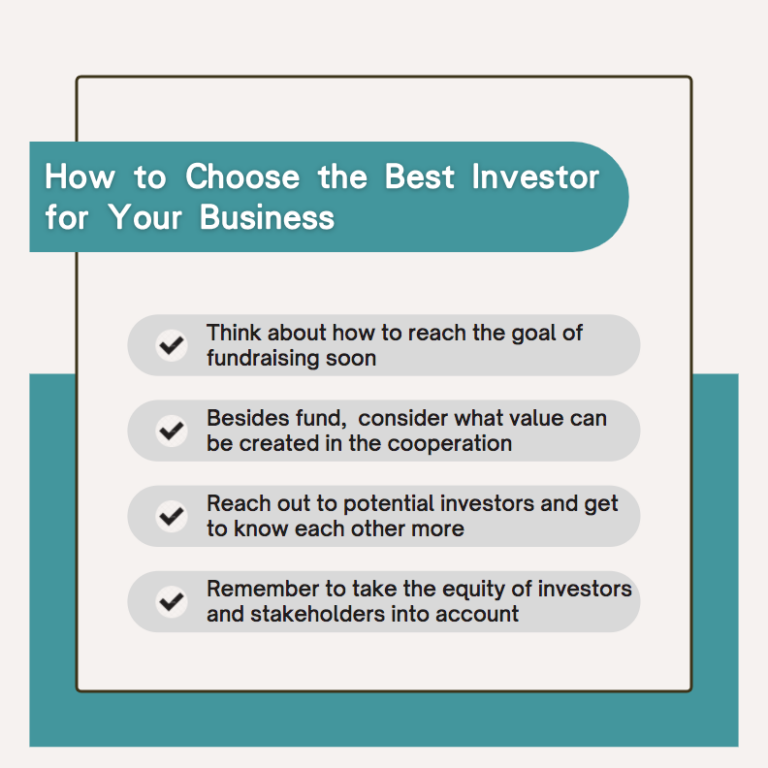 When looking for investors, many new startups might have to face the key question of how to attract investors. Should I look for funding from VCs (Venture Capitals) or CVCs (Corporate Venture Capitals)? "In the beginning, we mainly contacted VCs for investment. However, we found that VCs are not likely to lead the investment. In addition to capital injection, CVCs open up more business opportunities for startups and are more willing to lead the investment, which can attract VCs to follow their investment and join the round." said Chen.
During the time of seeking Series A funding, InfinitiesSoft failed to find mutual benefits and directions between its business and several CVCs' business. However, it still managed to find the right investor after a lot of patience and communication with Zero One Tech. When it comes to fundraising, apart from receiving enough funding, it is also necessary to think about whether the union will create any strategic wins, and mutual benefits for both parties.
Obtaining a major market share in Taiwan with a unique product and business model
Currently, there are only few providers of AI infrastructure platform in the market. InfinitiesSoft is the №1 of the market share in Taiwan with the presence of its AI-Stack product. AI-Stack is a machine learning development and operation platform that can manage GPU resources efficiently to provide AI infrastructure with container technology (eg. Kubernetes) to enable a better user experience on machine learning works. AI-Stack lowers the barriers to AI adoption, allowing AI engineers and scientists to develop and train AI models more efficiently. Further by the year end, AI-Stack Edge version will enable the AI model deployment mechanism to edge devices on the platform that can fulfill more application scenarios in edge computing and smart industries.
"The founder of Gamania Digital once said, 'CEOs and founders deal with problems that others cannot handle. This is his or her job.'" Chen laughs while agreeing with this statement, recalling the many hurdles and unimaginable situations he had to overcome on his startup journey, including cofounders leaving, product strategies shifting, lack of funding and support from family, etc.. In brief, he believes that it is impossible to stay in the comfort zone when working in a startup, and that hard work, a positive attitude, (and a bit of luck!) are the keys to success in the long term.
The financial crisis in 2008 and the current Covid-19 epidemic made it difficult for small companies to survive. However, it has also created new opportunities in the market. Compared with previous years, InfinitiesSoft's revenue last year and this year grew rapidly. "We had to change the way we do business, because we could not travel to do business overseas last year. We turned our focus back to Taiwan, scoring contracts with major domestic customers, and gained first place in terms of market share in Taiwan. After mid-May of this year, the COVID-19 situation worsened in Taiwan, so we changed our focus to explore new overseas markets, while also continuing to fulfill domestic orders, and replicating the methods in Taiwan for market expansion in foreign countries, successfully opening up new overseas channels."
InfinitiesSoft is also committed to expanding into the field of smart vehicles, hoping to develop a "brain" that can control self-driving cars, smart and semi-smart vehicles, and conduct maintenance management through the operation center, and eventually reaching its goal of a 30% market share in the AI platform market.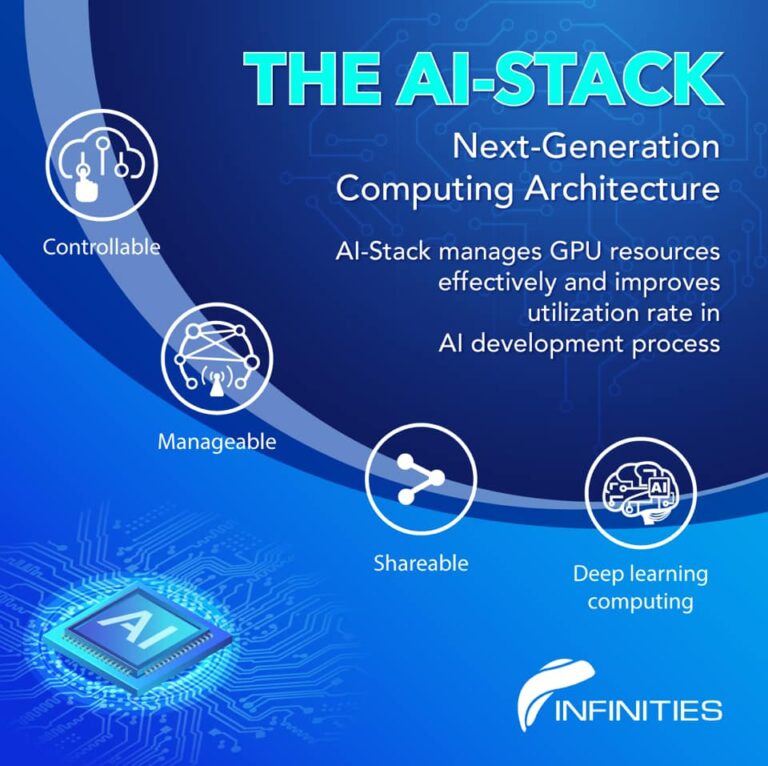 Nowadays, it is difficult to dominate the AI market alone, and InfinitiesSoft hopes to establish an AI ecosystem, so that companies that want to develop new AI applications can collaborate to introduce AI to more industries. With the assistance of StarFab, InfinitiesSoft has also included many startups in its AI-stack ecosystem, and looks forward to having more new partners to join its ecosystem and create new opportunities together.