【StarFab Newsletter Issue 8】AIdea – Enabling AI Adoption through Crowdsourcing
AIdea is an AI collaboration platform supported by the Ministry of Economic Affairs and developed by the Industrial Technology Research Institute (ITRI). The primary purpose of the platform is to rapidly establish AI solutions, by gathering together AI experts from different industries – to date, there are more than 13,000 members registered on the platform. Recently, AIdea won third place on the 9th CIAT Accelerator Program Demo Day, and also claimed the Internet Popularity Award!
In the first StarFab Newsletter Issue of 2022, we are honored to invite Susan, CEO of AIdea, to explore how AIdea gathers viable AI solutions through the platform, helping enterprises implement AI more efficiently.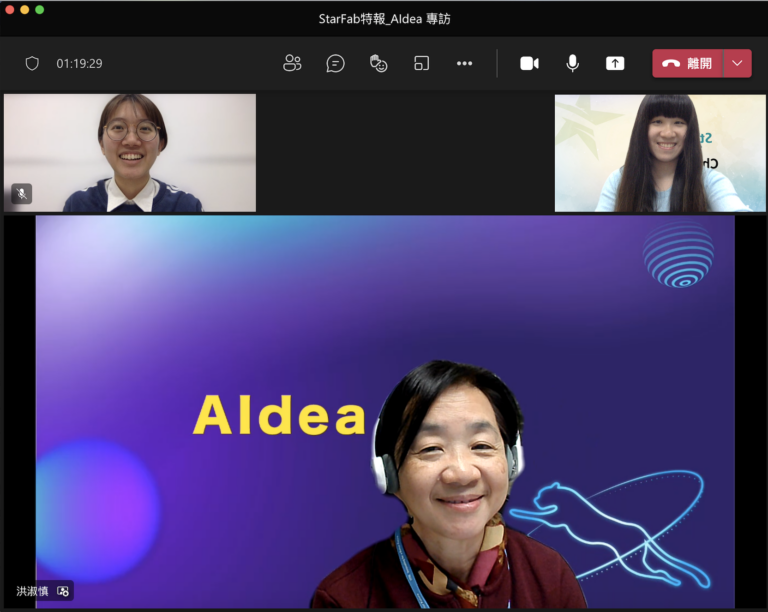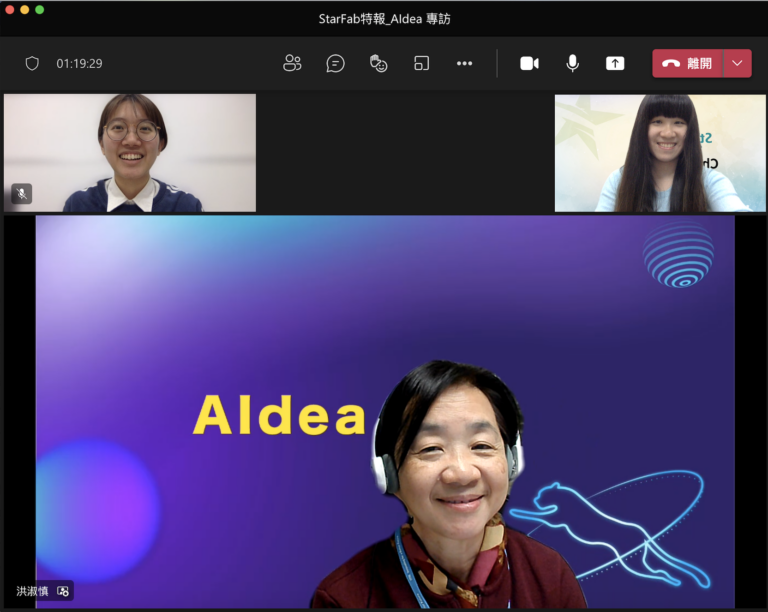 Crowdsourcing AI Solutions
With the increasing popularity of AI, more and more enterprises are including AI in their digital transformation plans, without actually asking themselves if they really need AI to solve their problems, and if they have the resources to implement AI.
Upon witnessing the problems that industries faced when implementing AI, AIdea came up with its own Essential AI engine, paired with professional consulting services, to help enterprises assess what challenges could be solved with AI. Once the challenges are identified, they are anonymized and published on AIdea's platform, allowing members to collaborate with each other, to develop the most suitable AI solution for the challenge.
"In the beginning, we were just part of a government project. During the project, we put in a lot of time and effort in recruiting AI experts for the platform, and we had also witnessed firsthand how crowdsourcing AI solutions could lower the entry barrier for AI adoption, so when the time came for the project to end, we decided to continue operating the platform! "
From the beginning, AIdea chose not to focus on specific AI solutions in limited domains. Many businesses across different industries were not familiar with implementing AI, choosing to work with AIdea to crowdsource AI solutions on its platform, attracting many teams and AI experts. AIdea gradually discovered the existence of "Champion models" – AI models that could solve problems across multiple enterprises – leading to the formation of the "Elite Club". Champion models included in the Elite Club can be introduced directly to companies facing similar issues, bypassing the open crowdsourcing process.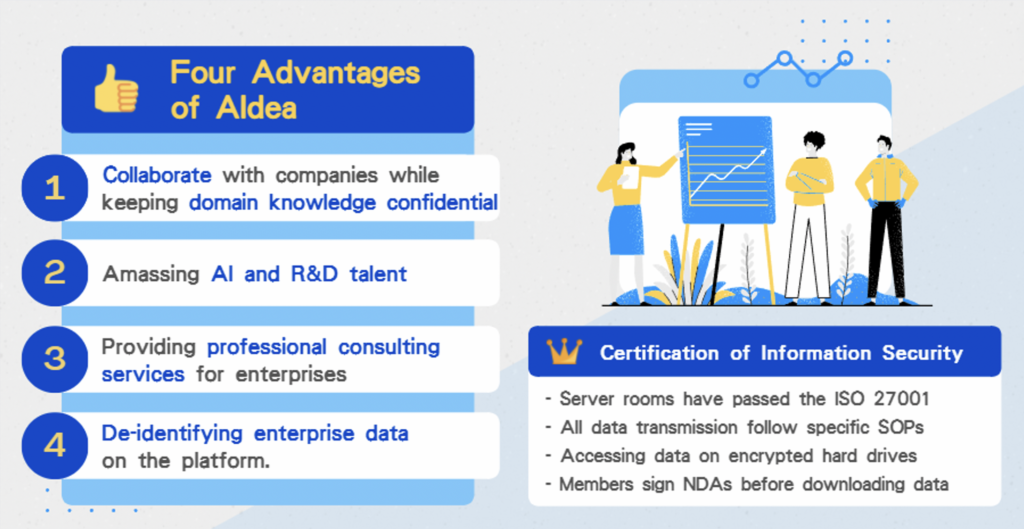 Building Trust By Ensuring data Security
Highlights of AIdea's platform:  
Protecting domain knowledge
When implementing AI, enterprises often have to face a lack of internal AI talent, while also having to consider the possibility of data leakages when outsourcing. By providing enterprises with its Essential AI engine, AIdea can help clients develop AI applications internally, keeping important information confidential.
Amassing AI talent to solve real world problems
AIdea's platform contains tens of thousands of professional AI research and development professionals, compared to the limited amount of R&D resources available in a single organization. Different solutions can be discovered for the same problem, giving enterprises more options to explore and choose from. Once solutions have been identified, it can be difficult for enterprises to evaluate the feasibility of an AI solution, and to address this issue, AIdea applies its unique AI evaluation system to score and rank solutions submitted to the platform, giving enterprises more insight into the applicability of the AI solution.  
Solutions proposed on AIdea's platform undergo intense competition, before being selected by enterprises. AIdea once received a request for a solution to classify Irwin mangos according to visible flaws and skin color. More than 2,000 members submitted AI solutions, setting a record for the highest number of people involved in proposing potential solutions for a single problem!
AIdea originated from a project at the Computational Intelligence Technology Center (CITC) in ITRI, where team members are equipped with hands-on experience in data de-identification and processing large amounts of data, leading to a lot of emphasis being placed on data security.
"The server room we use is ISO 27001 certified, and all of our data access and processing are compliant with standard processes. On top of adhering to ISO 27001, we also have additional procedures in place to to ensure the safety of data.", Susan explains.  
In addition to using encrypted hard drives to upload client information, AIdea also ensures sensitive information is removed and de-identified before client requests are uploaded to the platform, and platform members have to sign an non-disclosure agreement before they can download details of the problem. Multiple layers of security allows enterprises to trust their data with AIdea, and work with AIdea to crowdsource suitable AI solutions.
Two Major Challenges Organizations Face in the Age of AI: Talent & Data
With AI being increasingly applied to different industries, enterprises will eventually have to consider adopting AI solutions when planning for digital transformation, or strategizing to increase overall competitiveness. Whether in Taiwan or internationally, the biggest challenges facing the industry when adopting AI applications is "talent acquisition" and "data collection".
"Problems that enterprises continue to face include difficulties in training AI talent, and having enough data. When enterprises consider adopting AI, they also recognize the importance of data and digitization. In the future, we will also shift to exploring whether good AI solutions can be established with a small amount of data," says Susan.
In the process of helping enterprises to adopt AI, AIdea often comes across data that has not been digitized or cleaned, however if the organization may benefit from employing AI solutions, AIdea can still assist in launching the problem through its professional consulting services. Taiwan Taxi – the largest taxi company in Taiwan – partnered up with AIdea to use AI in order to predict demand at different times of the day. Taiwan Taxi provided close to 1 billion data points accumulated over 2 years, which AIdea helped to sort and reduce, eventually launching.
"Startups will always encounter many unpredictable problems along the way. Before we started AIdea, we were essentially an R&D team. After founding AIdea, we realized that we had to develop products to meet consumer demand, instead of forcing our products on clients. This was a complete change in our way of thinking, and with the help of StarFab and many mentors we learnt a lot about how to run a business sustainably," Susan shares.
AIdea's current focus is on the manufacturing industry in Taiwan, while also exploring the possibility of branching into carbon emissions and carbon neutrality; on the other hand, AIdea also has an international outlook. In addition to contacting foreign projects and providing solutions through crowdsourcing from AI talent in Taiwan, AIdea also recruits foreign AI talent to solve problems posed by different organizations on its platform, and hopes to increase international talent on the platform.
AIdea's platform is relevant to many different industries, and can enable enterprises to adopt AI, as well as increase the value of their products and services. AIdea looks forward to collaborating with more AI startups, and serving new enterprise partners in the future.