【StarFab Newsletter Issue 9】BRICKS: The No-Code PaaS revolutionizing commercial screen applications
In recent years, Low-Code and No-Code platforms have been on the rise, due to increasing demand for digital transformation and a shortage of engineers. According to Gartner, 65% of enterprises will undergo digital transformation using No-Code platforms by 2024, with the No-Code trend bound to reshape the global software industry.
We invited Pepper, CEO of BRICKS, an alumnus of the 8th CIAT Accelerator Program and FlyTech x StarFab Accelerator Program, to explore the possibilities and trends of No-Code platforms.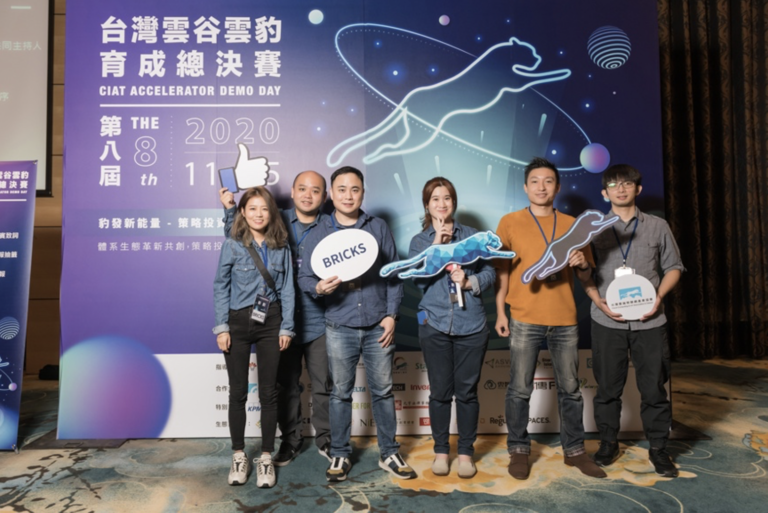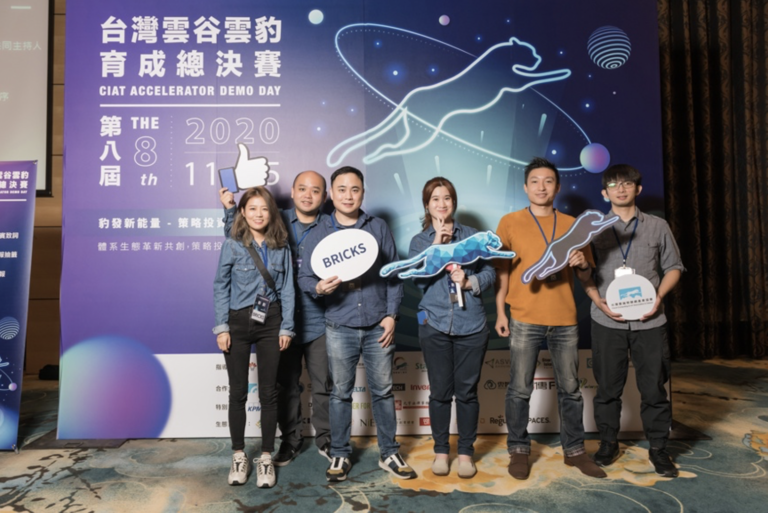 " If you want the screen to know you, listen to you, help you, entertain you, BRICKS is what you need! " – BRICKS.
BRICKS, a No-Code PaaS solution that enables designers to design in WYSIWYG and deploy content to screens, provides 2 major features: "dynamic visual presentations" and "No-Code hardware and software data integration". By using BRICKS, creative content and applications can be deployed rapidly and displayed on multi-screen with splicing and synchronization to produce applications for business.
In the past 2 years, BRICKS has been used by system integrators, banks, convenience stores, and restaurants. BRICKS also collaborated with Denwell (Ballroom Screens) 、SynTrend & Enterspace (Multi-screen escape room content)、Longshan Temple – AI Crowd Control Display.
BRICKS has stayed on top of current trends, launched an interactive menu board system "BRICKS@Menu", NFT frame "BRICKS@NFT" reported by many international media, a verification tool for digital health certificates. Recently, BRICKS held a No-Code cross-screen interactive game creation workshop with IxDA (Taiwan, Interactive Design Association), inviting 48 participants to design a "Rube Goldberg Machine" and sync 48 independent screens by using BRICKS' platform.
Creating a new interactive experience for designers and users
The main target market of BRICKS is "Interactive Applications for Business" such as McDonald's self-service ordering systems and subway ticket purchase systems. The two key features:
Attractive content
In order to catch the attention of its users, self-serve interactive business applications usually have eye-catching visual designs, and easy to use interface designs. What sets it apart from general mobile apps is its short service time, with users spending a maximum of 90 seconds on average.
Big data
The ability to integrate data from multiple sources is a basic requirement for any business application. BRICKS simplifies the app-building process by allowing users to integrate data from different hardware and software sources on its no-code platform, speeding up development and reducing costs.
BRICKS provides a quick solution for companies required to create screen display applications. At present, there are three kinds of digital signage systems on the market:
Basic digital signage systems
Traditional digital signage systems only support USB video loop playback, which is mostly used for photo and video slideshows. The content is pre-designed and cannot be changed at will.
Brand-exclusive broadcast systems
Most broadcast systems  on devices with existing hardware. BRICKS supports different types of screens even mobile, tablets and PC monitors.
Webpage displays on digital signage
Traditional digital signages are web-based, which commonly experience issues such as taking a long time to load, while also over-relying on network strength.
To tackle these issues, BRICKS provides customers with a simple and comprehensive tool to create, manage and deploy interactive content for digital signage.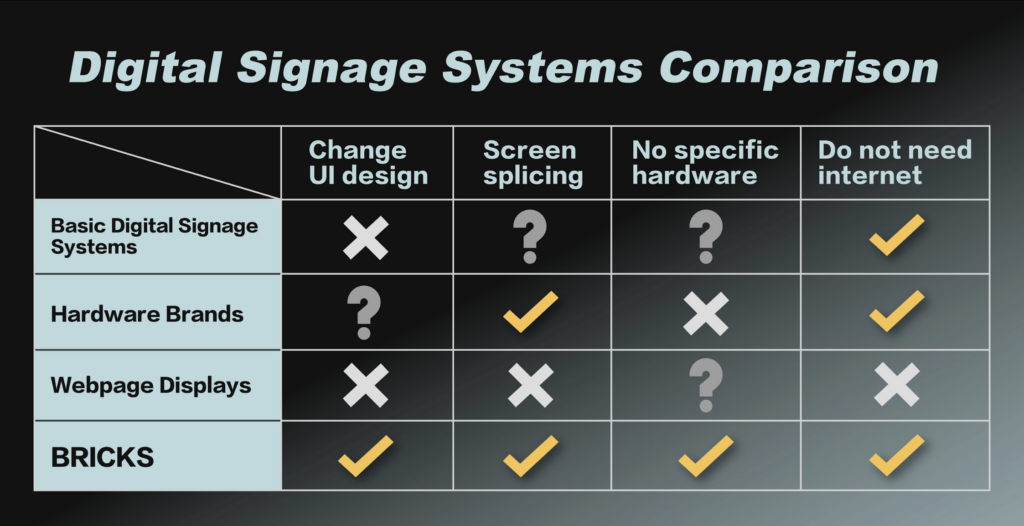 Using BRICKS to remotely control and maintain content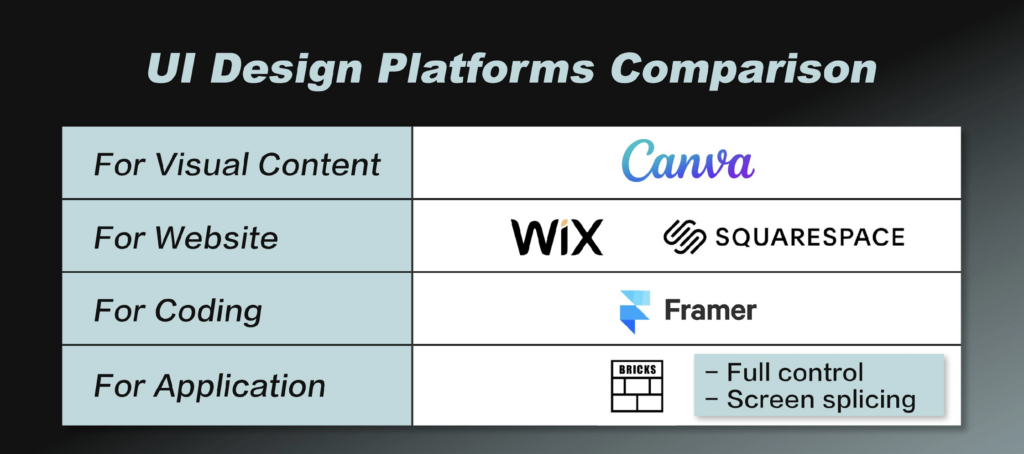 BRICKS is a No-Code tool equipped with full UI design functions. Currently, there are many UI platforms available for various purposes; compared with other UI design platforms, BRICKS has two major differentiating features:
Full control: Provide customers with comprehensive content display and interaction management tools
To use BRICKS, clients need to install the "BRICKS Foundation" launcher to publish displays content, it supports automatically updating screens remotely, providing users full control over all screens, and it brings the benefits of the remote upgrade and scaling.
Pepper says, "Global branded or publisher's content are usually displayed on screens located in different department stores or public, creating a huge barrier to updating and deploying content. BRICKS launcher solves this problem by making it simple to sync content across remote screens."
Synchronizing Content on Multiple Screens: sensation with new technology
Splicing screens are usually applied in malls or retail locations. Even today, most websites and application generation platforms are not supported by synchronizing screens.
"In the past, screen splicing meant piecing together content designed for multiple individual screens. With BRICKS, users can focus on the design, and synchronize display on multiple screens in different sizes easily. BRICKS' own unique synchronizing technology is the biggest difference from other UI platforms," Pepper said.
The disruptive trend: No-Code
BRICKS is a No-Code based platform, which allows designers to quickly develop interactive content for screens without coding.
No-Code trends observed in recent years, including: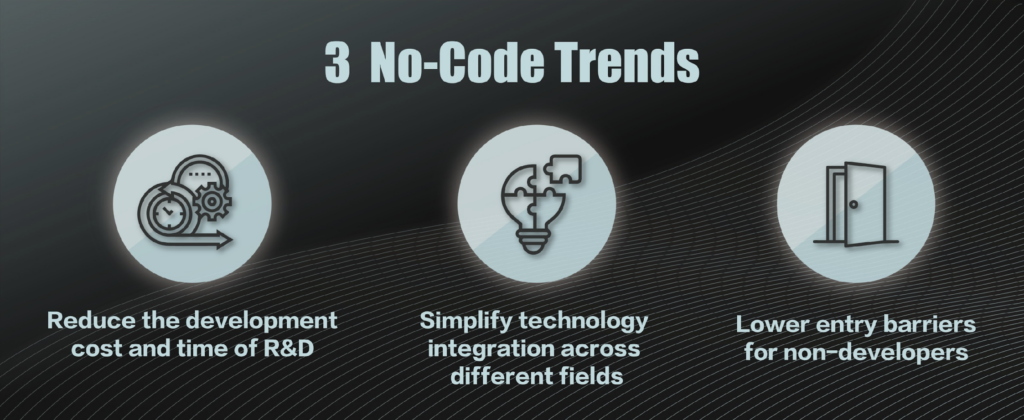 Reducing development life cycle and human effort
BRICKS no-code tool helps developers shorten development time from 7 days to 1 hour.
Simplifying technology integration across different fields
With No-Code tools, apps can be built without much programming knowledge, making it much easier to develop applications and implement them.
Lowering entry barriers for non-developers
Gives designers more creative control and focuses more on what the design looks like, instead of coding issues.
According to Pepper, Low-Code and No-Code software platforms are the major drivers of digital transformation factors. BRICKS can solve the shortage of software engineering talent, as well as bridge the gap between different applications, making creativity more easily realized.
Courage for change amidst the pandemic
BRICKS was founded in 2020, at the beginning of the COVID-19 pandemic. Before BRICKS, Pepper founded MyBigDay, , a startup servicing the wedding industry. At the end of 2019, business at MyBigDay was at its peak, and the team was full of confidence in the upcoming year, increasing investment into new equipment. The pandemic unexpectedly disrupted all their plans, also impacting their revenue. As various costs continued to pile up, MyBigDay was faced with a turning point. Pepper and his team decided to separate one of the tools developed at MyBigDay into an independent product, and the BRICKS No-Code platform was born. "At present, BRICKS is even raising its second round of funding, and looking for new users." Pepper said.
BRICKS is actively involved in various competitions and accelerator programs, including the CIAT Program and FlyTech x StarFab Accelerator Program, which connected BRICKS to Flytech, a leading supplier of POS solutions, and also led to an opportunity to exhibit virtually with the FlyTech x StarFab InnoVEX online exhibition.
In the near future, BRICKS plans to increase the number of global users and break into the US market, empowering more developers to create a wider range of applications!