Breaking New Ground in Technology Industry! Star-Studded 10TH CIAT ACCELERATOR
Cloud Computing & IoT Association in Taiwan (CIAT) and StarFab Accelerator (StarFab) held 10th CIAT ACCELERATOR DEMO DAY in TICC on November 29th. Taiwan Electrical and Electronic Manufacturers' Association (TEEMA), Taiwan Venture Capital Association (TVCA), Mizuho Bank, Ltd., Canadian Trade Office in Taipei (CTOT), British Office Taipei, and hundreds of domestic and foreign enterprises and startup representatives gathered for the Demo Day to witness the milestone of the largest themed business-oriented accelerator in Taiwan entering its tenth year!
CIAT ACCELERATOR, founded in 2013, has pioneered the "mentorship by large enterprises" mechanism which connected all the important resources within CIAT and has cooperated with large enterprise in Taiwan to assist more than 154 startups in obtaining business orders and investment. The total cumulation of fundraising has exceeded NT$3 billion!
As a star-studded demo day, not only many startup CEO alumni came back for reunion, but also the representatives from Industry, Government and University came to the event. Secretary-general , Tzi-Cker Chiueh, of CIAT, also known as the director of CIAT ACCELERATOR said, "CIAT ACCELERATOR was founded in 2013, starting from Taiwan's Cloud Valley to the current industry prosperity. This year, through the CIAT ACCELERATOR Startup CEO Award and Tech-startup Japan Award, more links have been created between startups and industries, and we are grateful for the support of all industry representatives."
At the beginning of the event, representatives from startups show gratitude to their enterprise mentors who supported the innovation and entrepreneurship for a long time. After that, Vice president of CIAT, James Liu, presented CIAT ACCELERATOR Startup CEO Award to the alumni of 8th CIAT ACCELERATOR, Leo Guo, who is the Founder & CEO of NUWA, and the alumni of 9th CIAT ACCELERATOR, Erix Lin, who is the Founder & COO of ioNETWORKS. Both awardees were selected by representatives of CIAT due to their capability to run and develop a startup steadily. They also shared the important characteristics that leaders should possess during the entrepreneurial journey.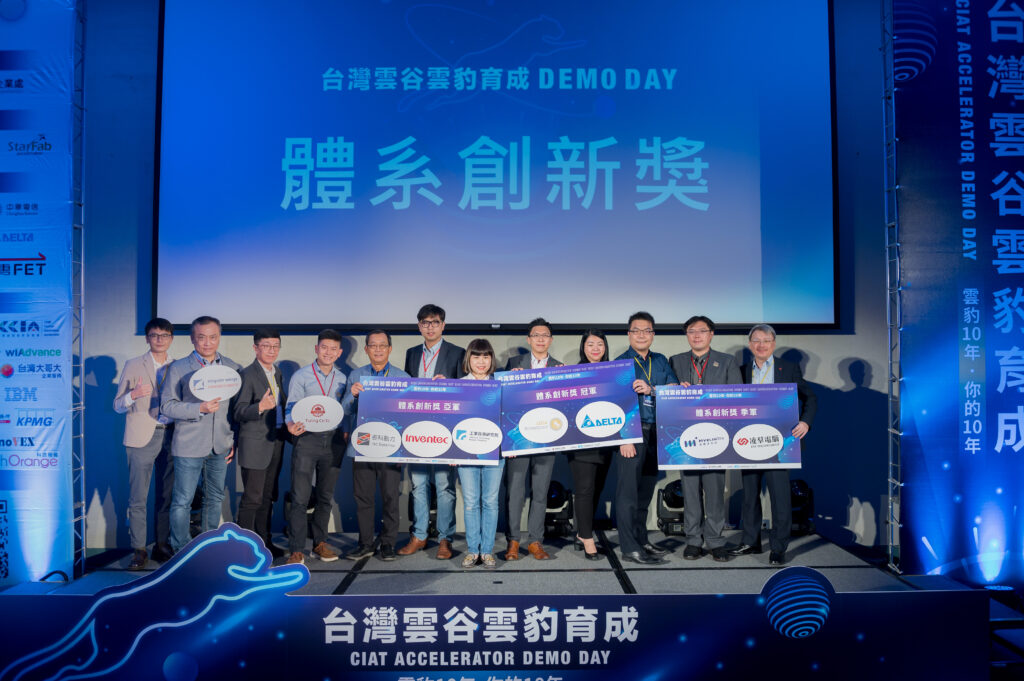 7 outstanding startups from 10th CIAT ACCELERATOR was on stage to present the results of collaboration with their mentors: Industrial Technology Research Institute (ITRI)、Chunghwa Telecom (CHT)、Inventec、Delta Electronics、THE SYSCOM GROUP、FarEasTone. They competed for investment intentions worth NT10 millions of dollars from Hive Ventures, ITIC, CDIB Capital Innovation Accelerator, and National Innovation Entrepreneurship Association (NiEA). In the end, LEDA Technology, whose enterprise mentor was Delta Electronics, won the champion of System Innovation Award. The second runner-up was TAC Dynamics, whose mentor was Inventec, and three start-ups tied for third place in the system innovation award, namely Singular Wings, Turing Certs, and MyelinTek, whose mentors were CHT, Inventec, and THE SYSCOM GROUP respectively. This year, a total of three startups have received investment intentions of NT$40 million, namely TAC Dynamics, Turing Certs, and LEDA Technology.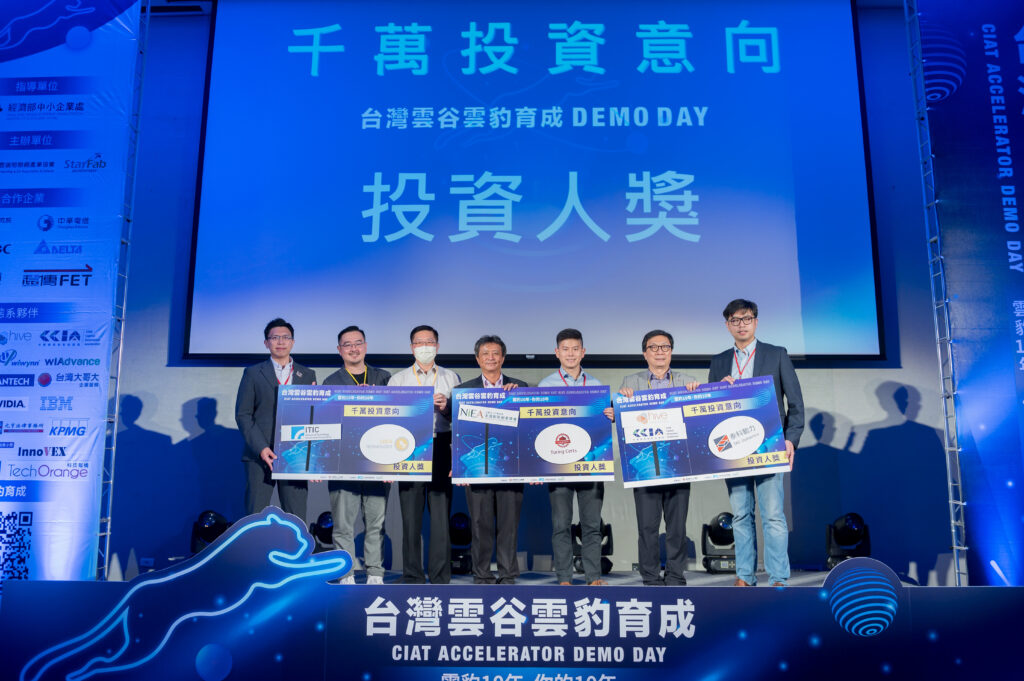 This year, CIAT ACCELERATOR held the first "Tech-Startup Japan Award". We invited vice president, Mitsutaka Tsuchiya, from Mizuho Bank, Ltd to share the bank's support for startups. Three outstanding startups Aemass, Turing Certs, and KeyXentic were selected to visit Japan and meet with local well-known companies and Tokyo City Government to explore more international collaborate opportunities.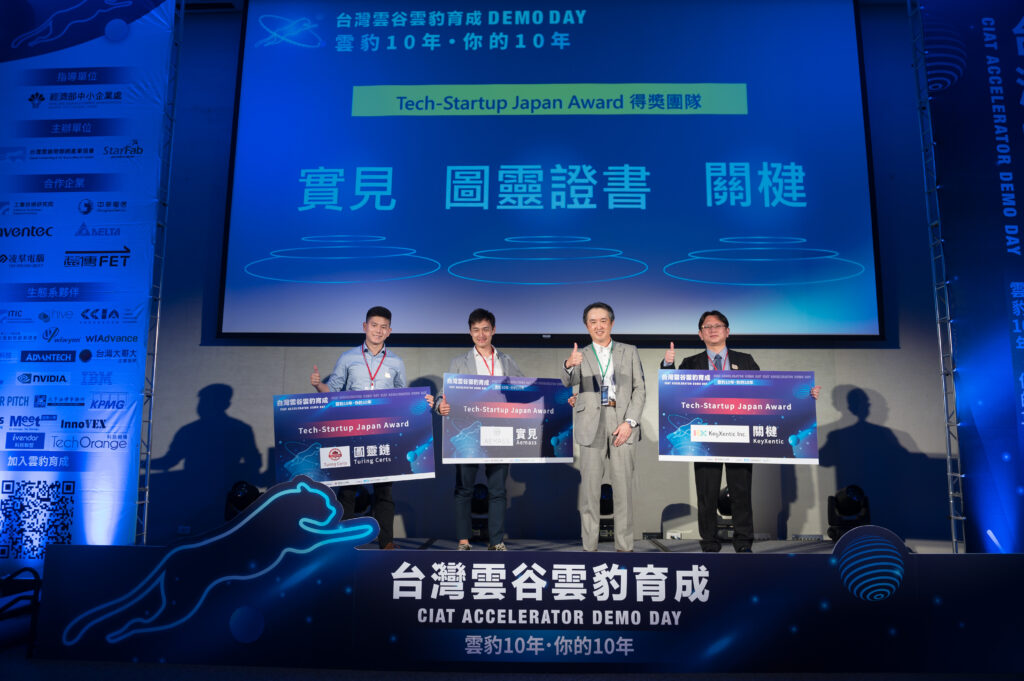 Chairman of StarFab, Amanda Liu, said, "Starting a business cannot be done alone. We have been fortunate to receive strong support from partners in various fields, thus we can accomplish the ten-year glory of CIAT ACCELERATOR and build an innovative formula for prosperous Industry."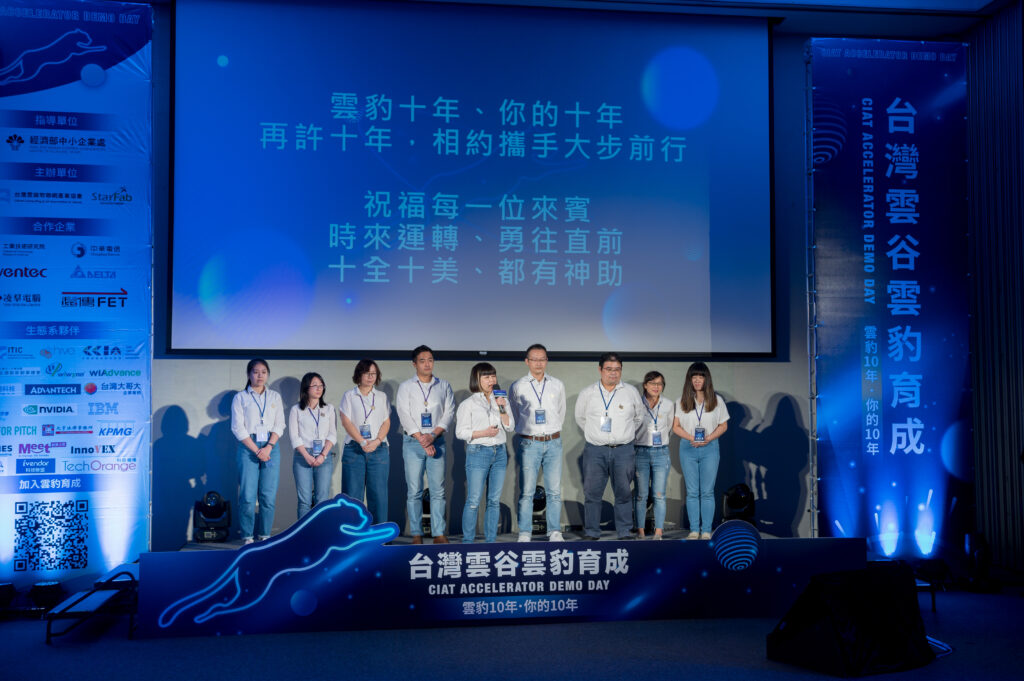 Under the execution of StarFab, CIAT ACCELERATOR accelerated the growth of startups, while driving mature enterprises to pursue external innovation and maintain the endurance of their development. Over the past ten years, it has successfully promoted industrial development and looks forward to more and more entrepreneur both domestically and abroad could participate to build up the next glorious decade of tech industry in Taiwan.
Know more about CIAT ACCELERATOR: https://zh.starfabx.com/ciat-accelerator/